Organization
[VIC]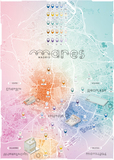 VIC is and open platform based in Madrid. We work mainly in LatinAmerica and Southern Europe since 2008. Our work is centered in social and citizen innovation. The last big project in which our organization -[VIC]- is involved is called MARES Madrid, an 1º call Urban Innovative Actions UIA- EU programme. In that project many objectives are fostered. Among others the resilience of the urban ecosystem of citizen initiatives.
After many years working and mapping citizen-based initiatives -check- we found the lack of "institutional ecology system" which could provide continuity to the most experimental programmes which other institutions do -aka medialab prado-, Mares aims to cover the lack of an -social- economical environment to test the -cultural- experimental projects based on technology, public space recovering, citizen science, open data and all kinds of urban practices based on "sovereignty reclaim".
Mares has deployed a very large and complex mixed human devices to provide shared knowledge and skills in both specific sectors and general management-. Those devices -incubator, mentoring, learning communities, territorial activation...- are mainly focused in the funding and governance methods and actions, in order to create a more resilient ecosystem, capable to face a transition market -social market or social economy range- and escape from the structural and never-ending scarcity and precariousness.
Mares din´t came from nowhere: we previously worked with other European networks researching of grass-roots initiatives and their funding and governance methods such as Funding the cooperative City. Now we would love to keep working on those topics, advocating and promoting the existing experiences and learnings of our context in other countries and reality. We are firmly convinced that our contribution surely would enrich enormously this challenging call.