Organization
URBANBAT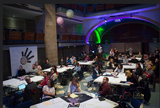 URBANBAT is an organization located in Bilbao, which mediates between civil society, private initiatives, organizations, communities and local governments, to carry out ideas that can improve the city. Through its work (participatory processes, cultural festivals, workshops, interventions in public space, films and other cultural activities.…) it develops social innovation and urban creativity in order to promote a culture of citizen participation.
URBANBAT continues exploring the way in which the inhabitants reclaim the constantly evolving contemporary city and ways of (re)inventing city life. The organization proposes interdisciplinary research and actions that aims to enhance the emergence of creative cities, seen much as a laboratory challenging our existing art, architecture and design stereotypes.
URBANBAT gathers architects, urbanists, artists and people dedicated to social sciences, communication, education and art practices and develops urban pedagogy programs in order to explore the multiple dimensions of the educating cities. On the other hand, every year they celebrate URBANBAT festival that explores yearly a current urban issue and develops collaborative suggestions using cultural tools.
Here are some of the projects:
- 7º edición of Urbanbat festival
- Walking the streets (urban citizen laboratory)
- Imagina Madrid (designing and cocreation process)
- Workshop: Digital collaborative Stories about cities
- Arkitente, a platform to bring the knowledge of the city and the architecture closer to children
Collaborations:
- University of Basque Country
- Intermediae Madrid
- La Térmica Málaga
- The City Council of Bilbao
- The Human Cities EU
- Wikitoki
Tags: #social #innovation #participation #art #culture #city #governance #citizenship #framework