Project
IDENSITAT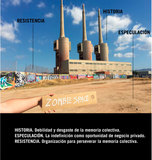 IDENSITAT is an arts project investigating ways of impacting upon the public sphere through creative proposals related to place and territory in their spatial, temporal and social dimensions.
Since its beginning in 1999, IDENSITAT has been in continuous transformation to become a complex system, incorporating other projects, actions or interventions, promoting processes, organising exhibitions, publishing ... altogether deploying a variety of creative strategies to realise an activity or a set of activities. A system based on collaborative dynamics in order to build a relationship between contemporary artistic practices and social space, through research, production, education in a particular context, and distribution throughout a wider context.
Under the rubric of, "to experiment with a location to transform artistic practices, and to experiment with artistic practices to transform a location", IDENSITAT highlights the active role which art plays in social context.
IDENSITAT collaborates with a number of artists and creators in various fields, bringing them together with individuals or collectives working in local contexts. Idensitat offers an itinerant production space, with dynamic travelling projects, generating visions, analyses and proposals for transformation.
Since 1999, IDENSITAT has acted as a framework for developing a multitude of projects in public space which, by means of collaborative strategies, bring artistic practices into a direct relationship with social space. In 2013, IDENSITAT was awarded the City of Barcelona Prize in Visual Arts.
From 2013 IDENSITAT has participated in cooperation projects promoted by the European Union, working with partners from several countries with the aim of reinforcing and creating creative abilities to adapt to the growing needs of co-building the city, with the aim to favour citizens' engagement and empowerment. You will find further information in our website.