Organization
ANTespacio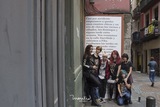 ANTespacio was born in Bilbao, Spain. We organize collaborative cultural projects mainly in the city with a network, developing new ways of working collectively. Considering art as something that should be part of the society, the daily life and not inside a bubble.
Social transformation is an important element in contemporary art and if artists are working taking references from political decisions, climate changes, discrimination… this must arrive to all kind of people that are part of this, they can feel interpellate by this situation. We consider that this kind of experiences enrich the work of art and it is double way, because artist learn from the public and the opposite. Art should be a space for freedom, working against hierarchy knowledges.
We generate temporal and space specific projects in public spaces, creating a space to generate reflections, questioning and encounters. We love approaching art to the daily life to break some pre-establish connections, with mediation. From a feminist point of view, we elaborate informative networks that generate critical judgment and bring together positions between the public and the creator. Art is a way to communicate so we should pay attention to whom and how the message arrives. There lots of contradictions.
Our main project is a festival called Iturfest that we organized in a neighborhood; we invite different artists and there all kind of activities. It is focus on a public and subjets that are already there. It is an area of transit with lot of immigrants and it is located outside the cultural centers, the official and the underground ones. We collaborate with a little archaeological museum, the schools, the associations of the area, shops, bars... We also work creating little by little a guide about the personal memories of the people living, working or passing through the streets. Not only the memory connected to the physical space but also the one that people bring from their countries of origin.